Description
Length: 15 m
Heigth: 20 cm
Cover: Iridescent paper & book linen with embedded magnets
Language: German
Printed and manufactured in Berlin

All books are made to order. Please allow 1-2 days before shipping – and up to two weeks for the signed edition, as this needs to cross the Atlantic, twice.

Larry Yust is known for his photographic elevations showing streets in such perfection and love of detail that you feel like you were there. Presenting his images in books has always been a challenge.
At Round not Square, we believe that involuntary adjustments to standardized formats should be a thing of the past: We are proud to present Larry Yust's work at its best in our aesthetic scroll format.
"Catching the Eye – Small" includes 25 of the renowned wide-angle elevations by the Los Angeles based photographer. Full of colourful impressions, the scroll is still small and easy to use. With its unique iridescent cover it will catch the eye even when just sitting rolled up on your bookshelf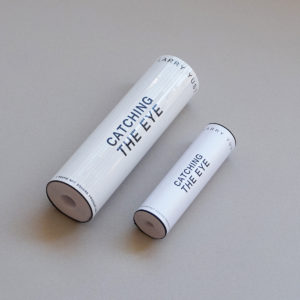 Catching the Eye is also available in our large art scroll format.
For this edition, please click here