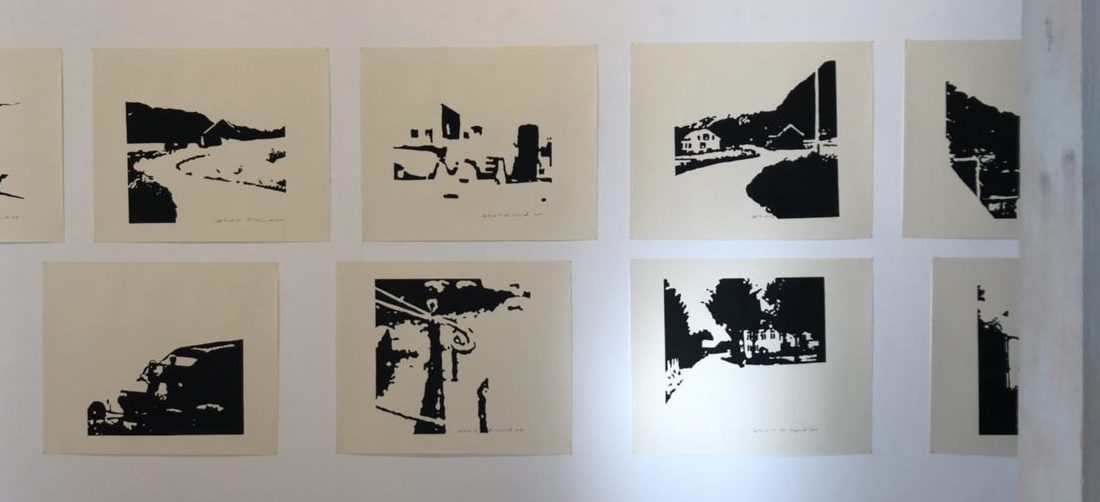 A trip to the Sjøland exhibition at the Edvard Munch House in Warnemünde

We spent last weekend in Warnemünde for the opening of an exhibition of Sjøland. The perfect occasion to virtually pack the entire publishing house into one car for a trip to the Baltic coast. Talk about combining business with pleasure! We took the opportunity to hang out on the beach one last time for this year, eat chips, fly our kite and we even went to watch some seals.
The Edvard-Munch-House
We went to Warnemünde with the Sjøland artists Herbert Eugen Wiegand and Heike Schmitz at an invitation of the Förderverein Edvard-Munch-Haus, an association dedicated to cultivating the memory of the Warnemünde period of Edvard Munch. The Norwegian painter spent 18 months there between 1907 and 1908, and today, the house he lived in at the time is used as a space for cultural encounters between Norway and Germany — what a perfect setting for Sjøland.
The building itself was very much one of the highlights of our visit. It is a beautiful historical fisherman's house, one of a series of narrow, small houses built "Am Strom", directly on the river Warnow. The house charms visitors with its beautiful winter garden, a courtyard with a pear tree and a cosy little library that is just perfect for a small – or large! – collection of scrolls.
The exhibition
And then there was the exhibition itself … The graphic from the Sjøland scrolls is made up of 96 single linocuts of the Norwegian coastal landscape stitched together (more about the scroll editions on our website). Herbert's original prints look beautiful in the long, bright main room of the Munch house.
We also brought along some framed art prints from Sjøland that are now also available in our shop.
The opening of the exhibition was very well attended, which obviously made us very happy. There was a cordial introduction from Petra Schmidt Dreyblatt, artistic director of the Edvard Munch House, then Herbert talked a bit about Harøy and the changes in the region that inspired him to work on Sjøland. Heike added another, literary level to those insights, reading from some of her texts on which the story in the scrolls Sjø and Land is based. And last but not least, Antonia and Ioan gave quick introduction of Round not Square and explained why some ideas – such as Sjøland for example – should just not be squeezed into a normal book, when they could also appear on a scroll.
How to visit
The exhibition runs until November 25, 2018. The Edvard Munch House is always open on Saturdays from 11:00 to 17:00. Visits are also possible by prior arrangement. Go there to scroll through all the Sjøland editions — or come visit us in our shop in Berlin, of course!